Interested in Moving to Strathearn?
Strathearn is a highly desired neighborhood in Edmonton because of it's location. Walking along Strathearn Drive you'll be able to watch sunsets over the river with the silhouette of downtown across the river. This view is so unique, that this mature neighborhood does command some higher priced properties. With many homes initially built in 1940 & 1095s, you'll find a mix of older homes, character homes, and new built homes – you'll have an abundance of choices. This neighborhood hosts the Edmonton Folk Music Festival every summer which features 4 days of music on Gallagher Hill. The Strathearn Art Walk each September is one of the largest art walks to see local artists share their creativity. Or just sit on a bench over looking the river.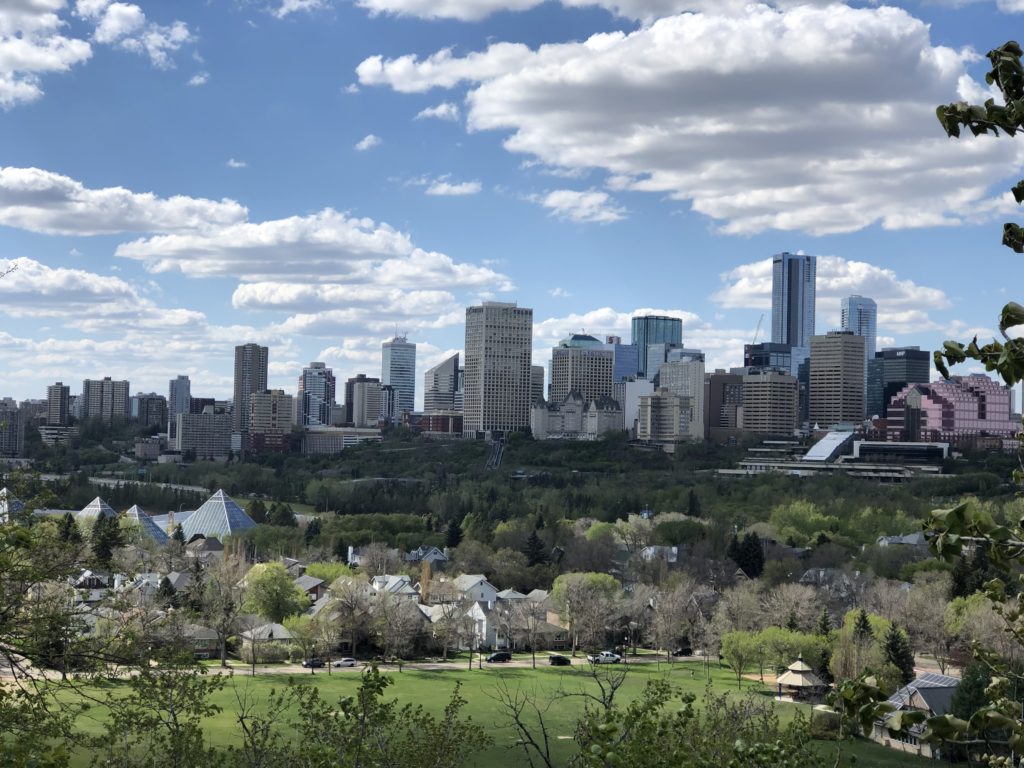 Quadrant: Southeast Edmonton
25 minute drive to Edmonton International Airport
7 minutes drive to Downtown Edmonton
25 minutes drive to West Edmonton Mall
Edmonton Real Estate Zone: 18
15 minutes drive to Sherwood Park
40 minutes drive to St. Albert
40 minutes drive to Spruce Grove
Top 5 Reasons to Live in Strathearn
You love walking along the top of the river valley with stunning views of downtown & the river
Having one of the largest artwalks in your neighborhood is something you look forward to
You don't mind the traffic and music from the Edmonton Folk Music Festival, because you have tickets too!
You enjoy walking to Juniper Cafe for brunch (eggs Benedict with chai latte if I'm joining you!) You are anxiously awaiting new cafes to open in the neighborhood.
Excellent LRT access (soon) and access to 4 Universities (University of Alberta, Kings University, Concordia University, Grant MacEwan University)
Strathearn is along the south side of the North Saskatchewan River. It is a triangular shaped community outlined by Connors road and 85th street.
Strathearn has fabulous access to the Downtown via Connors Road, 75 Street or University of Alberta area to easily get nearly anywhere in Edmonton. Whether you want to walk to the local cafe, or walking along the paths at the top edge of the river, or love the easy access to LRT in the middle of the neighborhood – you'll find your perfect reason for living here.
Living in Strathearn
Keep Connected in Your Community
Strathearn Community League | The Strathearn Community League Facebook Page
Keep Active in your Community
Fung Loy Kok Taoist Tai Chi
Nearby : Bonnie Doon Leisure Centre
Community Garden at Silver Heights Park (9511 90 Street)
Medical Services
Medical Clinics : Montgomery Medical Clinic
Primary Care : Primary Care South
Closest Hospital : University Hospital
Nearby Shopping
Lee's Food Mart
Nearby : Bonnie Doon Shopping Centre | Holyrood Mini Mart | Shoppers Drug Mart (Bonnie Doon) | Safeway (Bonnie Doon)
Life with Pets
Off Leash Area : Millcreek Ravine Off Leash Area (10min drive) | Hazeldean Off Leash Area (15min drive)
Veterinarian : Mill Creek Animal Hospital | Bonnie Doon Veterinary Clinic | Ottewell Animal Clinic
Spiritual Opportunities
Assumption Catholic Church | Strathearn United Church | The Church of Jesus Christ of Latterday Saints
Nearby: Central Baptist Church (Bonnie Doon) | Connors Hill Gospel Hall (Bonnie Doon) | New Apostolic Church (Bonnie Doon) | St. Luke's Anglican Church (Holyrood)
Family Life in Strathearn
Soccer Fields, Playgrounds & Spraypark at École publique Gabrielle-Roy
Edmonton Public Schools
École publique Gabrielle-Roy (k-12) *
Holyrood School (K-6)
Rutherford School (K-6)
Kenilworth School (7-9)
McNally School (10-12)
Edmonton Catholic Schools
St. Brendan School (K-9) *
Austin O'Brien High School (10-12) *
Vimy Ridge Academy (7-12)
Academy at King Edward (2-9)
Nearby Neighborhoods
Bonnie Doon | Cloverdale | Forest Heights | Holyrood | Idylewylde